About Bonnie
Several years ago the New York Times began an article about Bonnie Frankel by wishing her a Happy New Year and telling her this could be her decade. USA Today wrote that, if ever there were a movie, "the life and times of Bonnie Frankel" is it. The Los Angeles Times quotes one person after another who said Bonnie showed them how to get totally fit and move into their body's full potential, like nobody else. They all said they felt more mentally and looked more physically fit than ever, even though they're getting older.
"What makes Frankel so different is … she can still outrun most of the runners she coaches. She's a walking, talking, hugging infomercial of positiveness."
– Los Angeles Times Columnist
"She has such infectious enthusiasm and she's such a remarkable athlete."
– Olympic Coach
"She shows everyone who trains with her how to become totally fit and lose weight no matter how old they are."
– Former Student
So many people know of Bonnie Frankel's triumphs. They've been covered by ABC, NBC, CNN, the New York Times, the Los Angeles Times, Associated Press, USA Today, etc. Where does one begin when they list Bonnie Frankel's accomplishments?
Do we start with the fact that at 44, after dealing with a learning disability, a divorce, beating breast cancer against all odds, and, oh yes, being out of school for 27 years, she enrolled in community college where she developed a passion for running? Or that 1968 Olympians Tommie Smith and John Carlos became her coaching mentors. Or that two years later, when she transferred to Loyola Marymount University, she made history by getting the NCAA to change an eligibility ruling they had at the time. The new ruling, called "The Bonnie Rule," made sports history.
Bonnie went on to become the oldest woman to compete in division one collegiate sports, and placed third in a swimming event. Traditionally not a 5k runner, she has placed in the top 10 in women's category of every 5K race she's competed in. Bonnie is widely known as a remarkable athlete and great runner who has been a national champion in the age-graded master division in the 400 and 800 meters. She ranked in the top ten of the world masters in the 800 meter. That was after only 1 year of training. She was one of the few women who became a head coach in a division one collegiate sport, that coached both men and women.
Again, her list of sports accomplishments could fill pages!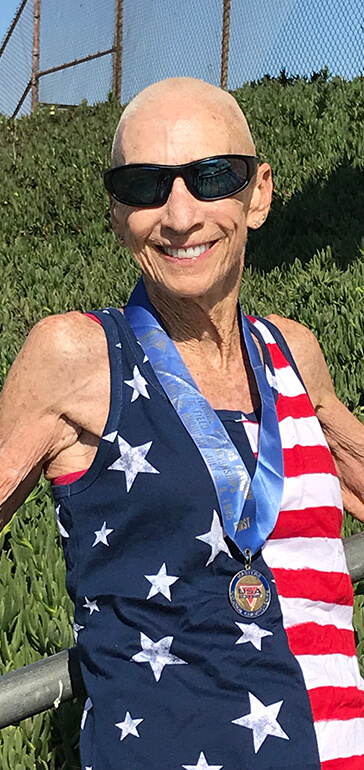 Media
Interview with Cyrus A. Webb, Media Personality/Author
Listen here.
Article in Google News on getting in shape at 60, 70 and 80:
View here.
Article in Google News on Bonnie and her book:
View here.
Article in Business Insider on Bonnie and her book:
View here.
Article in New York Sport Scene on Bonnie and her book:
View here.
Shared post about Bonnie from Drake's Media:
View here.
Watch Bonnie Frankel commenting on Mark Halperin's Focus Group TV show shown on the Newsmax channel
Bonnie Frankel on HealthyLife.net Radio's Truth On Wellness program
Listen to the episode here
Ep 94 ComicPop Visits with Bonnie Frankel Author of "Bonnies' Theory: Finding The Right Exercise"
Listen to the episode here
Interview with the Business Therapy radio show:
Listen to the episode here.

Bonnie Has Been Featured On:





Book For Sale
Bonnie's Theory – Finding the Right Exercise
"Bonnie's Theory" is a book of personal inspiration that will show you an innovative way to find the right exercise or sport for you by using the four elements, Fire, Air, Earth and Water. Each element has its own unique exercise and sport type. Which element are you?
You Can Purchase Here: